ISO 9001
ISO 9001 quality management system definition
ISO 9001 quality management system is a standard enacted and implemented by the international organization for standardization as a means to evaluate the quality management syst
em of an organization.
This international certificate scheme provides reliability to the customer and organization through independent and objective evaluation performed by the independent 3rd party.
The certification body assures that the certified organization complies to the minimum requirements of the quality management system requirements of ISO 9001.
The organization adopted ISO 9001 quality management system meets the customer requirements and also the legal & regulatory requirements.
It helps the organization to improve its competitiveness through integral quality improvement. Also ISO 9001 quality management system may help the companies to achieve the long te
rm growth and improve overall customer satisfaction. Therefore, increase market share.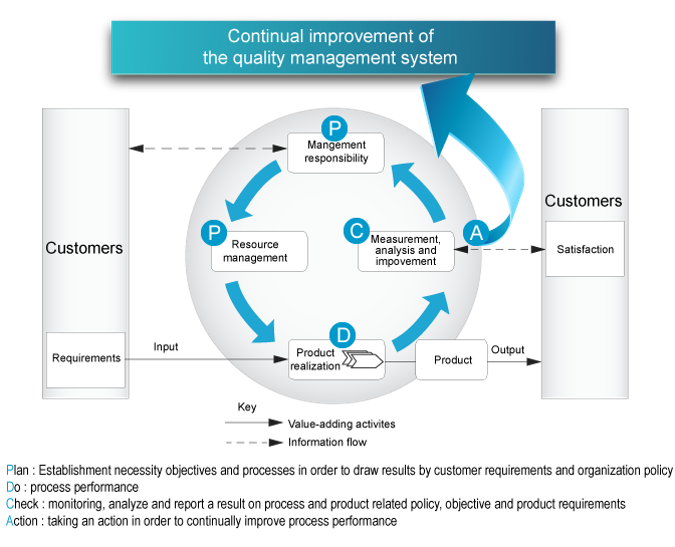 Quality management system introduction necessity
Almost all of clients in the global market basically request the ISO certificate of their suppliers.

Quality importance was spread out and customer level was improved.

Importance of service quality was increased by intensifying competition in the market.
Quality management system certificate effectiveness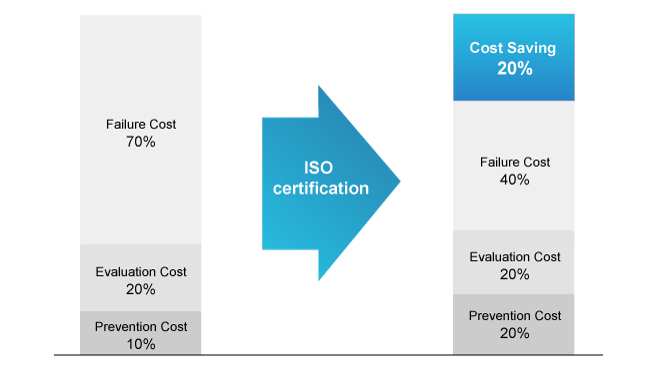 It helps to increase sales amount and over export barriers by improving company image and increasing reliability
Public confidence is increased by work process maintenance and employee pride is inspired.

It becomes basis for quality renovation and technical development

Data documentation is made possible by documentation and control of record

Responsibility and authority are clear.

It makes it possible to gain systematical employee training programs.

It reduces overlapped audits.

It becomes the best countermeasure against Product Liability.

It fortifies competitiveness by reducing quality cost with utmost preventive action.

It helps all internal works to be more systematized.

It helps to create a continual quality improvement.

It helps the organization to effectively use management resources.

Customer relationships and marketing expanse by response to customer expectation and requirements.