OHSAS 18001
OHSAS 18001 Certification for Occupational Health & Safety Management Systems
We design and implement Quality Management Systems to meet the requirements of OHSAS 18001 Certification.
OHSAS 18001 provides a framework for managing Health and Safety Management responsibilities through an Occupational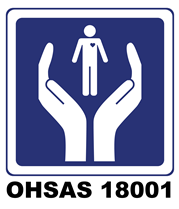 Health and Safety Management System, compatible with both the ISO 9001
and ISO 14001 management systems standards. The standard has been developed for international use and enables an organization to control its health and safety risks and improve its performance. An effective H & S management system will reduce the risk to employees and other interested parties and aid the compliance with legislation.
What are the benefits to me and my organization?
It provides a recognized way of informing interested parties that health and safety holds priority status within your organization .
How can it help me to gain business?
Provides your organization with proactive preventative measures to protect your employees and to anticipate, manage and control occupational health and safety risks

Conformance provides safeguards, so that employees, clients and other parties are exposed to as few risks as possible

Third-party certification demonstrates that an organization has taken steps to avoid accidents and hazardous situations using a comprehensive and effectively implemented system

Can be implemented by organization s of all sizes and in any industry
What are the internal benefits for my business?
Potential reduction in the number of accidents

Potential reduction in downtime and associated costs

Demonstration of legal compliance and commitment to health and safety

Demonstration of an innovative and forward thinking approach
Increased access to new customers and business partners

Better management of health and safety risks, now and in the future

Potential reduced public liability insurance cost